Home - 5 Track EP - With Autograph - SWE
Updated: 25th of Apr 2019
Click on the pictures for larger versions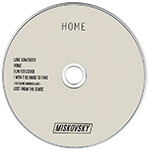 Releasedate:
2019-Apr-26
Manufactured in:
Sweden
Mediatype:
CD EP in double cardboard sleeve
Availability:
1: Still in commercial stores
Catalogue number:
DZCD092 - LC27829
Barcode:
7350049515809
Issue:
Normal Issue
Matrix:
19-03/9821-0001 DZCD092
LBR SID code:
-
Mould SID code:
-
Label:
Despotz Records
Producer:
-
Mix:
-
Executive producer:
-
CD Master:
-
Studio:
Bondegatan 6/Farkosten
Sleeve:
-
Photo:
-
TrackList:
1: Love Somebody : 4:05
2: Home : 3:56
3: Run For Cover : 5:26
4: I Won't Be Hard To Find (feat. Andreas Moe) : 3:39
5: Lost From The Stars : 5:32
Other Info:
This is a new 5-track EP CD including the singles "Love Somebody" and "Run For Cover"
(another longer variant of "Run For Cover" than the digital released radio edit version).
This EP has Lisas autograph on it that I got from her in person after the concert the 23rd
of April at Käggelbanan.
This CD is missing SID codes. I guess the record companies are not afraid of pirated CDs
anymore in the times when everything is digital...