Falling Water - Album Sampler 4-Track CDS - Promotional Release - UK
Updated: 26th of Feb 2017
Click on the pictures for larger versions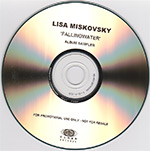 Releasedate:
2005
Manufactured in:
UK
Mediatype:
CD single in slimcase
Availability:
5: Extremely hard to find
Catalogue number:
-
Barcode:
-
Issue:
Promotional Issue
Matrix:
S8204A1-CR080G00
LBR SID code:
IFPI L585
Mould SID code:
-
Label:
Globe
Producer:
-
Mix:
-
Executive producer:
-
CD Master:
-
Studio:
-
Sleeve:
-
Photo:
-
TrackList:
1: Lady Stardust 4:42
2: A Brand New Day 3:44
3: Sing To Me 4:37
4: Restless Heart 5:22
Other Info:
An album sampler with 4 tracks from the album Falling Water. It's the same versions as on the official album.
This is a rare UK promotional release in a slimcase.