Still Alive - 2 Track CDS - Pre-Order Bonus Gift - US
Updated: 6th of Sep 2010
Click on the pictures for larger versions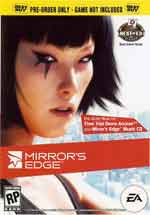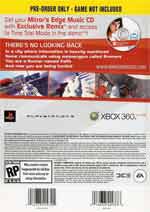 Releasedate:
2008
Manufactured in:
US
Mediatype:
CD single in DVD case
Availability:
6: Super rare
Catalogue number:
-
Barcode:
-
Issue:
Pre-Order Release
Matrix:
PACC-109732 24253 GP/CA
LBR SID code:
-
Mould SID code:
-
Label:
EARS
Producer:
Yacoub/Birgisson/Miskovsky
Mix:
Chris Lord-Alge, Keith Armstrong
Executive producer:
Walterstad/Schnur/Pettus
CD Master:
-
Studio:
-
Sleeve:
-
Photo:
-
TrackList:
1: Still Alive (The Theme From Mirror's Edge - Pre-Order) : 5:10
2: Still Alive (Benny Benassi Mix) : 8:24
Other Info:
The song performed by Lisa for the game "Mirror's Edge". Lisa also wrote the lyrics for this song, mixed
by this planet leading DJ's. This is a 2-track single that was given away to a few people who pre-ordered
the game "Mirror's Edge" for Xbox 360 and PS3 in a BestBuy store in the US. This version of the theme song
only exist on this rare single. The single is in a DVD case and included is a time trial demo for PC, with
an unique code for downloading and playing the demo.