Mary - 1 Track CDS - Promotional Release - With Sticker - GER
Updated: 6th of Sep 2010
Click on the pictures for larger versions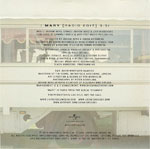 Releasedate:
2006
Manufactured in:
Germany
Mediatype:
CD single in cardboard sleeve
Availability:
3: Hard to find
Catalogue number:
LC 01846 MARYCDSP-1
Barcode:
-
Issue:
Promotional Issue
Matrix:
00095 51751 699 01 * 51752299
LBR SID code:
IFPI LV26
Mould SID code:
IFPI 0112
Label:
Stockholm Records/Universal
Producer:
Joakim Berg & Simon Nordberg
Mix:
Simon Nordberg
Executive producer:
-
CD Master:
Tim Young
Studio:
Park/IRAN/Maratone
Sleeve:
Pär Wickholm
Photo:
Peter Cederling
TrackList:
1: Mary (Radio Edit): 3:51
Other Info:
The 1st single from the "Changes" album. This is a German promotional release. It's a
different version of the song compared to the version on the official single and album.
This copy of the single has a promotional sticker on the front.