Lady Stardust - 4-Track CDS - GER
Updated: 6th of Sep 2010
Click on the pictures for larger versions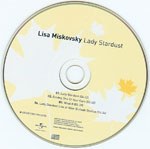 Releasedate:
2005
Manufactured in:
Germany
Mediatype:
CD single in slimcase
Availability:
3: Hard to find
Catalogue number:
987 404-7
Barcode:
0 602498740477
Issue:
Normal Issue
Matrix:
06024 987 404-7 01 * 51643167
LBR SID code:
IFPI LV26
Mould SID code:
IFPI 0122
Label:
Stockholm Records/Universal
Producer:
Joakim Berg & Simon Nordberg
Mix:
Simon Nordberg
Executive producer:
-
CD Master:
Björn Engelmann
Studio:
Toytown/PAMA/DHS/IRAN
Sleeve:
-
Photo:
-
TrackList:
1: Lady Stardust 4:42
2: Driving One Of Your Cars : 03:45
3: What If : 03:39
4: Lady Stardust (LIVE) : 04:36
Other Info:
The 1st single from the album "Falling Water". This is a German release with different
tracks compared to the German and the UK version of the single. There is a live track on
this single and it's the only known (to me) live performance on a record so faar...
Lisa, when will we see a live album?